The Woodshed studio is owned and operated by the Canadian band, Blue Rodeo. It was originally conceived as a place where the band could record their albums and starting in 2001, they recorded "Palace of Gold", followed by "Are You Ready" and "Small Miracles". Since then, the gear list was expanded to include a good balance of vintage gear and modern capabilities. Along with the addition of vintage U47s, EMT plate reverb, Urei 1176s, and API EQs, we've also kept pace with things like our Pro Tools HD system, Millenia Origins, and an SSL AWS900+ console.
Besides a growing list of recording equipment, The Woodshed's greatest attribute has to be that it's one of the most relaxing places to make a record. With its barn board walls and La-Z-Boys scattered around the main recording room, artists have often mentioned that it's one of the best places to forget about everything else except the music.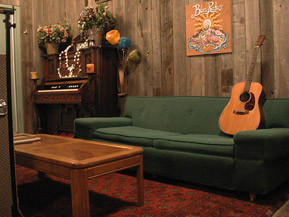 The studio is based on a one room concept made famous by people such as Daniel Lanois and Pierre Marchand. With the recording process happening in the same room as the performance, inspiration and communication are made easy. In addition to the main room, there are isolation areas for amps as well as a larger separate room generally used for vocals.
Since its inception, The Woodshed has evolved into a respected Toronto studio that has seen the likes of Kris Kristofferson, Bruce Cockburn, Feist, and many others come through its doors. We are about making recordings with the best intentions of yesteryear, but with all with modern capabilities of today.
Tim Vesely has recently taken over the studio reins from long-time in-house engineer, Chris Shreenan-Dyck. Tim is a founding member of the Canadian band, Rheostatics, and has been a member of their production team for over two decades. Tim is a multi-instrumentalist and a composer for television and film. He has an ear for sound & arrangement and a knack for gear. He's looking forward to helping make some great records at The Woodshed.